Are you on the hunt for the best running shoes for bunions in 2023? You're in the right place! As a seasoned runner and physiotherapist, I understand the struggle of finding the perfect shoe that combines comfort with style. This article 'Best Running Shoes for Women with Bunions' is your ultimate guide to finding running shoes that cater to your bunions, ensuring a pain-free and enjoyable running experience.
Understanding Bunions and Their Impact on Running
What is a Bunion? A bunion is a bony bump that forms on the joint at the base of your big toe. It occurs when some of the bones in the front part of your foot move out of place. This causes the tip of your big toe to get pulled toward the smaller toes, forcing the joint at the base of your big toe to stick out.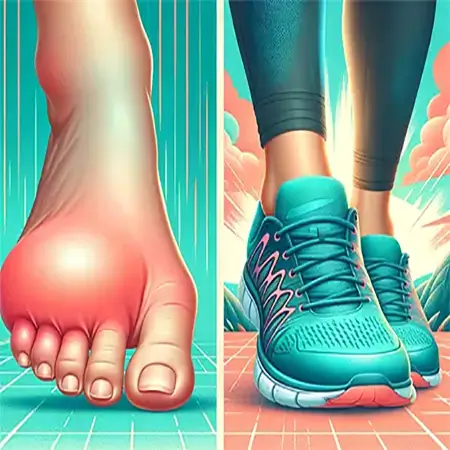 The Challenge for Runners For runners, especially women, bunions can be a significant hindrance. The pressure and friction from running can exacerbate the pain and discomfort associated with bunions. Therefore, choosing the right running shoe is crucial.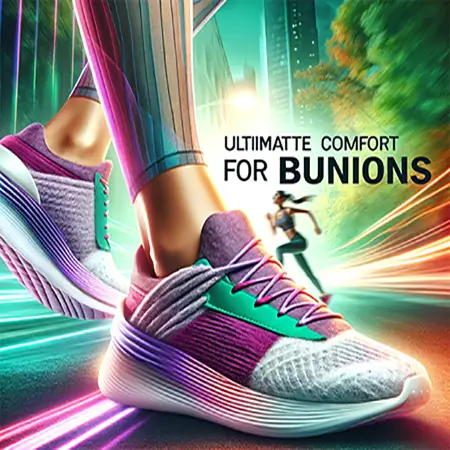 ---
Table of Contents:
---
The Key Features to Look for in Running Shoes for Bunions
- Wide Toe Box: This feature provides extra space around the bunion area, reducing pressure and friction.
- Cushioning: Adequate cushioning helps to absorb shock and reduce pressure on the bunion.
- Arch Support: Good arch support is essential to distribute weight evenly and alleviate stress on the bunion.
- Breathable Material: A mesh upper helps keep your feet cool and dry, reducing the risk of blisters and discomfort.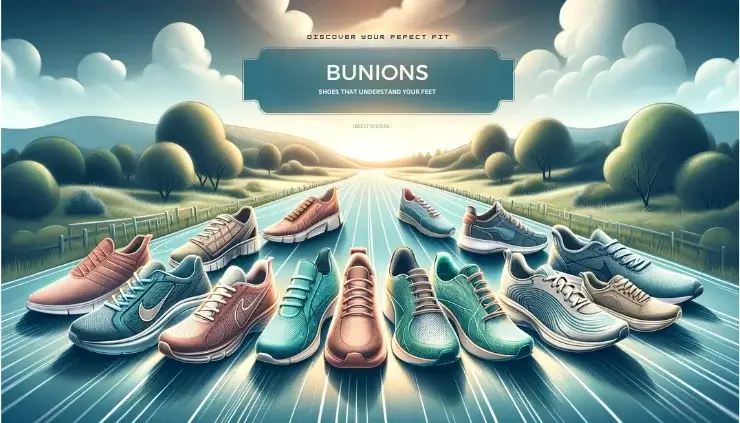 Top 5 Running Shoes for Women with Bunions
ASICS Gel-Kayano 25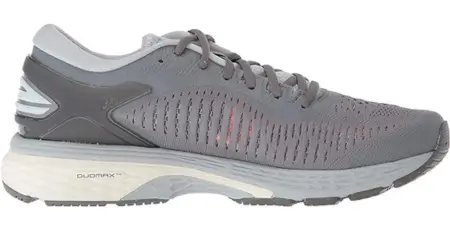 Overview
The ASICS Gel-Kayano 25 is a high-performance stability trainer designed for long-distance running. Celebrating its 25th anniversary, this model stands as a testament to ASICS' commitment to continuous improvement and innovation in running shoe technology.
Great For: People who overpronate.
Pros
- New Updates: The Gel-Kayano 25 introduces several new features, including a two-part midsole that enhances cushioning, responsiveness, and control throughout your run.
- Comfort and Fit: Right out of the box, these shoes offer exceptional comfort. The exoskeletal heel counter and no-sew underlay provide a smooth, snug fit from heel to toe.
- Cushioning Technology: The midsole features Flytefoam Lyte in the heel for lightweight, effective shock absorption and Flytefoam Propel in the forefoot for added bounce and durability.
Cons
- Aesthetic Appeal: Some runners may find the color options unattractive.
- Bulky Sole Unit: The sole can feel somewhat bulky, which might be noticeable during shorter runs.
- Price: The higher price point could be a deterrent for some runners.
Unique Features
- Gel Cushioning: ASICS' Gel technology in the heel and forefoot provides superior shock absorption, crucial for reducing impact on feet and bunions.
- Dynamic Duomax Cushioning: This feature aids in controlling overpronation, a common issue for stability shoe wearers.
- Innovative Midsole: The combination of Flytefoam Lyte and Flytefoam Propel offers a balance of absorption, bounce-back, and durability.
Performance
- Comfort on Long Runs: The Kayano 25 excels in long-distance running, thanks to its blend of old and new cushioning technologies.
- Stability and Support: Ideal for runners who need a stability shoe, especially for marathon training.
- Responsive Cushioning: The shoe's cushioning system effectively absorbs impact and aids in a smooth transition from heel to toe.
User Experience
- Fit and Feel: The Jacquard mesh upper ensures a glove-like fit, balancing snugness and breathability.
- Traction and Durability: The sole's aggressive traction performs well across various surfaces and conditions.
- Heel Counter: The exoskeletal heel counter provides excellent support and keeps the heel securely in place.
Overall Experience
The ASICS Gel-Kayano 25 is a well-rounded stability trainer, ideal for runners who prioritize cushioning, responsiveness, and control in their footwear. While its sole may feel bulky to some and the price is on the higher end, its performance and comfort on long runs make it a strong contender in the stability shoe category.
Brooks Adrenaline GTS 21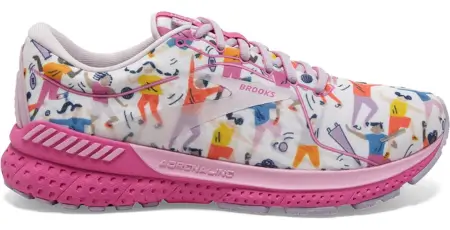 Overview
The Brooks Adrenaline GTS 21 is a hallmark of stability and comfort in the running shoe world. This latest iteration continues Brooks' legacy of balancing support with plush cushioning, making it a go-to choice for runners seeking a reliable, everyday trainer.
Great For: Runners with unique foot shapes.
Pros
- Enhanced Comfort: The shoe's DNA LOFT cushioning extends throughout the midsole, providing a soft, luxurious feel underfoot without losing responsiveness or durability.
- Improved Stability: The GuideRails holistic support system is a standout feature, designed to keep excess movement in check, which is particularly beneficial for runners with overpronation.
- Adaptive Fit: The 3D Fit Print upper technology offers a secure, comfortable fit that adapts to the runner's foot, enhancing flexibility and structure.
Cons
- Weight: Some runners might find the shoe slightly heavier compared to other models in the same category.
- Aesthetics: While functional, the design may not appeal to all runners, especially those looking for more vibrant color options.
- Warmth: The shoe's robust construction might feel too warm in hotter climates or during summer months.
Unique Features
- Wide Toe Box: The roomy toe box is a significant advantage for runners with bunions, providing ample space to reduce pressure and discomfort.
- Supportive Midsole: The combination of the DNA LOFT and BioMoGo DNA in the midsole offers a balance of softness, support, and adaptability to the runner's stride.
- Segmented Crash Pad: This integrated system ensures smooth heel-to-toe transitions, making each step feel more natural and efficient.
Performance
- Versatility: Excelling in both short and long runs, the Adrenaline GTS 21 is versatile enough for various training needs.
- Responsive Cushioning: Despite its plush cushioning, the shoe maintains a level of responsiveness that energizes each step.
- Stability Features: The GuideRails support system works effectively to minimize excess movement, aiding in injury prevention.
User Experience
- Fit and Comfort: The shoe's engineered mesh upper and plush interior lining contribute to an exceptionally comfortable fit.
- Durability: High-quality materials and construction mean the Adrenaline GTS 21 can withstand many miles without significant wear.
- Breathability: Despite its slightly warm nature, the mesh upper provides adequate breathability for most conditions.
Overall Experience
The Brooks Adrenaline GTS 21 stands out as a top choice for runners who need a blend of support, cushioning, and roominess, especially for those dealing with bunions. While it may be a bit heavy for some and less breathable in hot conditions, its overall performance, comfort, and stability features make it a solid investment for both casual and serious runners.
New Balance 928v3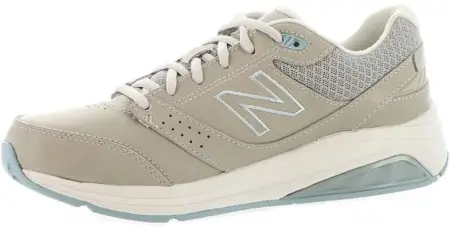 The New Balance 928v3 is a shoe designed with a specific focus on comfort, especially for those with bunions. It features a wide-toe box and a cushioned sole, making these wide shoes a popular choice for people seeking relief from bunion discomfort.
Great For: Casual runners and everyday walkers with bunions.
Key Features
- Wide Toe Box: The spacious toe box is a standout feature, providing ample room for the toes and reducing pressure on bunions.
- Cushioned Sole: The shoe's sole is designed for comfort, absorbing impact and providing a soft landing for the feet.
- Motion Control: This feature offers stability and support, essential for those with foot problems.
- ABZORB Technology: This technology enhances cushioning and impact absorption, making the shoe comfortable for extended wear.
Customer Experiences
- Fit and Comfort: A significant number of users have praised the shoe for its true-to-size fit and overall comfort. The wide-toe box is frequently mentioned as a relief for bunion sufferers.
- Quality Concerns: Some customers have noted a decline in quality over different versions of the shoe, with issues in comfort and fit being highlighted.
- Style: While the shoe is praised for its functionality, some users feel that the style could be improved, particularly in terms of color options and design.
- Durability: Opinions vary on durability, with some users finding the shoe long-lasting, while others have experienced quicker-than-expected wear and tear.
Pros
- Excellent for bunion relief due to the wide toe box.
- Good motion control and stability features.
- ABZORB technology provides superior cushioning.
Cons
- Some users have reported a decline in quality and comfort in newer models.
- Style and design might not appeal to all users.
- Mixed reviews on durability and fit.
Overall Experience
The New Balance 928v3 is a shoe that seems to cater well to those with specific foot conditions like bunions. Its wide toe box and cushioning make it a comfortable choice, though there are some concerns about quality consistency and style. As with any footwear, individual experiences may vary, and it's advisable to consider personal needs and preferences when choosing a shoe.
HOKA ONE ONE Bondi 7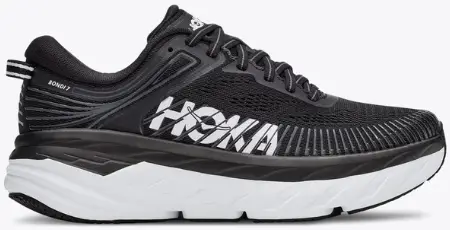 Why It's Great:
The HOKA ONE ONE Bondi 7 is a powerhouse in the world of running shoes, especially for those seeking comfort and stability. It's a versatile shoe, excelling as a daily trainer, a long-distance cruiser, and even as a casual sneaker. Its 11-ounce weight and EVA midsole provide a cushioned, stable ride, making it ideal for marathoners or anyone looking for a reliable, comfortable shoe.
Great For: Runners with bunions logging lots of miles.
Unique Features:
- EVA Midsole: The traditional EVA foam midsole offers a medium-soft ride with a hint of firmness, ensuring a neutral, stable experience.
- Wide Footprint: The shoe's wide base supports body weight effectively, while the rubber lugs ensure necessary traction.
- Rocker Midsole: With a 4 mm heel offset, the rocker design aids in smooth transitions and is suitable for various running styles.
- Ortholite Footbed: A thin, removable insole provides additional comfort, though it can be replaced with custom orthotics if needed.
- Upper Design: The upper fits true-to-size, offering a secure yet comfortable experience. The spacer mesh is breathable, and the foam-quilted tongue and heel collar add to the comfort.
Pros:
- Excellent for long-distance runs and everyday use.
- Balanced ride quality suitable for most runners.
- Available in multiple widths, catering to different foot sizes.
- Durable design, with a potential lifespan of over 400 miles.
Cons:
- Heavier than some modern running shoes.
- The $160 price tag might be steep for some, especially considering the use of traditional EVA foam.
Comparison with Bondi 8:
The Bondi 7 is preferred over the newer Bondi 8 due to its softer midsole edges and more accommodating fit. The Bondi 8's stiffer midsole edges can create pressure hotspots, and its narrower upper might not suit all runners.
Suitability:
The HOKA ONE ONE Bondi 7 is an excellent choice for marathon runners, especially those aiming for a 4-hour marathon or a 2-hour half-marathon. Its stability and cushioning make it a great option for everyday training at medium paces (around 5:00 min/km or 8:00 min/mile).
Overall Experience:
The HOKA ONE ONE Bondi 7 stands out as a reliable, comfortable running shoe, and versatile running shoe. Its design may be traditional, but it offers a ride quality that appeals to a wide range of runners. Whether you're training for a marathon or looking for a comfortable daily trainer, the Bondi 7 is a solid choice.
Saucony Guide 15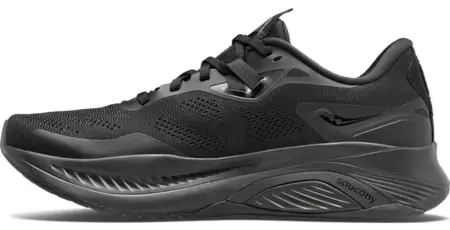 Why It's Great:
The Saucony Guide 15 emerges as a solid everyday trainer, especially for runners seeking a blend of stability and comfort. It's a shoe that doesn't shy away from offering a new take on the classic stability model, making it a refreshing choice in the market. The Guide 15 is particularly noted for its comfortable fit, durable construction, and a stability system that's innovative yet not overly aggressive.
Great For: Fast road runners with bunions.
Unique Features:
- HOLLOW-TECH Stability System: This modest medial posting provides light stability, ideal for those who don't require aggressive support.
- PWRRUN Midsole: Although a bit stiff, it excels in shock absorption, making it great for long runs.
- 8mm Drop: This feature, combined with the shoe's midsole geometry, encourages a midfoot landing, enhancing the stability aspects.
- Engineered Mesh Upper: Offers a comfortable fit, breathability, and quick drying, which is beneficial in different weather conditions.
- Booty Construction with Gusted Tongue: Ensures a secure heel fit and prevents lace discomfort.
Pros:
- Excellent for recovery days and long runs.
- Innovative stability system suitable for light to moderate support needs.
- Durable, likely to last several hundred miles.
- True to size fit with a comfortable toe box.
Cons:
- The ride can feel stiff and heavy, particularly during faster efforts.
- Limited color options, which might not appeal to all runners.
Overall Experience:
The Saucony Guide 15 is a great choice for runners who prioritize a stable, comfortable ride over a fast, responsive one. It's particularly suited for recovery days and long runs where maintaining a steady pace is key. While this pair of shoes may not be the best pick for race day or speed workouts, its durability and moderate support make it a reliable everyday trainer. The Guide 15 stands out for its unique approach to stability, offering a fresh perspective in a market often dominated by traditional designs.
Key Takeaways
- Prioritize Comfort: Your running shoes should alleviate pressure on your bunions, not exacerbate it.
- Look for Specific Features: A wide toe box, ample cushioning, and good arch support are non-negotiable.
- Consult a Podiatrist: If you're unsure, it's always a good idea to seek professional advice.
---
Frequently Asked Questions
1. What are the best running shoes for people with bunions?
For those with bunions, the key is to find shoes that offer a wide toe box and flexible design. Hoka shoes are often recommended due to their spacious fit and cushioning that help to reduce pressure on your forefoot, especially around the big toe joint. Look for shoes that provide comfort and support while being breathable and flexible to accommodate the bunion.
2. Can running shoes help relieve symptoms of plantar fasciitis and flat feet along with bunions?
Absolutely! The best shoe for someone with flat feet, plantar fasciitis, and bunions often includes added stability and a supportive running shoe design. Features like a zero drop platform or an insert for added comfort can be beneficial. Shoes with a good arch support system and cushioning technology that helps distribute weight evenly are ideal. This combination helps to keep the foot and reduce strain on the plantar fascia while accommodating bunions.
3. How do I choose walking shoes that are also suitable for bunions?
When looking for walking shoes that are bunion-friendly, prioritize finding a shoe with a roomy toe box and cushioning for added comfort. Shoes that are wide and have a flexible upper are great for bunions. Additionally, look for shoes that offer support and stability, especially if you have a type of bunion that requires more careful foot care. Breathable materials help to keep feet cool and dry, reducing the risk of bunion formation.
4. What should I consider before buying a pair of running shoes for bunions?
Before purchasing a pair of running shoes for bunions, consider the width of the shoe – it should be wide enough to accommodate the bunion comfortably. Seek out bunion-friendly shoes that offer a combination of support, cushioning, and flexibility. It's also important to try on the shoes and go for a run, if possible, to ensure they provide the necessary comfort and support. If you've had bunion surgery, ask your podiatrist for specific footwear recommendations.
5. Are there specific features to look for in shoes to prevent bunion discomfort during running?
To prevent bunion discomfort while running, look for shoes with features like a wide and flexible toe box, cushioning that helps to absorb impact, and technology that helps to guide the foot and reduce friction. Shoes that offer a snug fit around the heel but are wide at the forefoot can be particularly helpful. Additionally, consider shoes with breathable and flexible materials that provide comfort and support without adding unnecessary pressure on the bunion area.